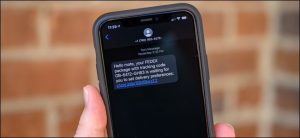 Consumer beware! If it looks like a rat, smells like a rat, walks and talks like a rat – IT'S A RAT!
Scammers are continuing to find new ways to target you in a more personal way. Now they are coming for you through text messages and posing as companies we trust, such as FedEx and UPS.
Text messages and emails might look real, but are in fact fake.
The text messages say that you have a delivery coming, but that there is a problem with it. Scammers want you to call or click on the link embedded in the text. Once you click on the link, it takes you to a fake site and starts asking you for personal information (including your credit card). Once you input your card, it's all over – they just got you and will steal your money.
In fact, new numbers from the Federal Trade Commission (FTC) shows that they received nearly 1.7 million fraud reports in 2019. The most common type is when criminals pose as someone else. YIKES! And their number one fraud complaint – social security scammers who call and claim there is a problem with your SSN, threaten you, and demand payment.
Crooks are contacting consumers posing as the police, the IRS, your bank, the courts, even federal agents.
The way they pray on honest hardworking people is sickening. Especially people over the age of 60. This group of individuals are being scammed more than any other age group. If you are in this age group or have a parent or grandparent in this age group, talk to them. Make sure they are aware of the dangers lurking on their cell phones.
Head the warning and don't fall for tricks.
FedEx issued a nationwide alert tweeting that they do not send unsolicited texts or emails requesting money, packages, or personal information.
Somethings you can do to protect yourself:
Stay away from free trial offers
Look for grammatical errors in texts or emails
Report scams! Contact the FTC at https://www.ftc.gov/