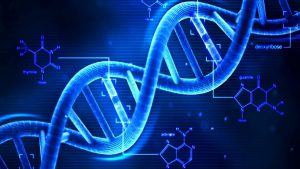 As any law enforcement officer can tell you, there are times when you need more evidence in order to gain a conviction. Last year in Anne Arundel County Maryland, the police department was working on a murder case in Baltimore with very little to go, a body had not been found, and despite their suspicions there was insufficient evidence to prove that Shaquana Marie Caldwell had even been murdered let alone that Taras Caldwell was the perpetrator.
DNA Evidence at a New Level
In June of 2017, the Anne Arundel County Sheriff's Department was notified that a set of skeletal remains had been found buried in Glen Burnie, MD. After a thorough examination, the Office of Chief Medical Examiner concluded that the remains belong to a female aged approximately 20 and that it appeared she had been the victim of foul play.
However, this was as far as their investigation went, they were unable to determine the identity of the victim. That was until the Anne Arundel County Police decided to reach out to Parabon NanoLabs. The ACP asked NanoLabs if they would be willing to work with a DNA sample taken from the victim using their Snapshot® DNA Phenotyping system to help create an image of what the victim might have looked like.
Not Science Fiction
If all this sounds like science fiction, it is in reality, science fact. According to Sgt. Rob Price, the ACP has made use of this service offered by NanoLabs numerous times before. He and his fellow officers believe this to be one of the most efficient forms of victim identification currently available.
The Snapshot® system can take DNA samples and use them to determine a fantastic amount of details about the victim. Among these are ancestry, skin color, eye color, hair color, even the fact a person had no freckles. One the ACP had this information, they worked with a Parabon certified forensic artist to create an image of what the victim could have looked like while she was alive.
Tom Shaw, the Parabon forensic artist, said, " The ability to fine-tune a Snapshot composite with details from a skull gives the best possible likeness of an unidentified victim." Now the ACP had an image; they were able to identify the victim as Shaquana Marie Caldwell, the missing girlfriend of Taras Caldwell.
An Arrest is Made
The Arundel County Police were also able to use information gained from the victim's skeletal remains along with other evidence to issue a warrant for the arrest of one Taras Caldwell. The charges stated on the warrant included first and second-degree murder and first and second-degree assault. He was arrested in Park City, Utah and extradited to Baltimore where he was jailed in anticipation of a trial.
The more technology such as this advances, the easier it will be for law enforcement officers to identify victims of violent crimes like this and ensure the perpetrator ends up behind bars where thy belong.