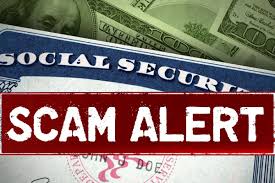 In the latest twist on a scam related to social security numbers, scammers pretend to be from the Social Security Administration (SSA) and try to get your social security number.
The scammers claim that your SSN has been suspended due to suspicious activity and that had to cancel the card. The scammer then wants you to confirm your SSN to reactivate it. It's yet another attempt by con artists to frighten people into returning 'robocall' voicemails and its growing rapidly.

Signs of the Scam!
• The caller tells you that you have to pay in order to keep your SSN active.
• The caller demands that you pay using a prepaid gift card, such as iTunes.
• The caller says you have to wire the funds immediately or you will lose your house and your assets will be frozen.
• The caller threatens that the police is going to come to your house and arrest you.

Be on the lookout for new variations of scam. The phone number that shows up on your caller ID often shows the real SSA phone number. YIKES! But, the scammers are able to fake the number and re-route it.
So, if you receive a call that threatens you if you don't pay, just hang up and block the call. The law requires the IRS to use private agencies to collect certain outstanding tax debts. Never give out your SSN to anyone who contacts you.