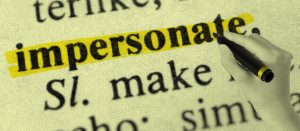 Impersonation scams online have significantly increased. Bank of America, Wells Fargo, Chase, and Citibank to name a few, are the latest banks to be targeted. Scammers are fraudulently impersonating customers by using stolen identities, while also pretending to be representatives working on their behalf. Remember, financial industries such as these will never contact you to request money using Zelle or Wire Tranfer.
Stay Vigilant! Here are some tips to avoid being a target online:
Protect your credit or debit card and your PIN number. Make it hard for someone to guess and always cover it up when entering it in a store at the check out counter.
Don't answer your phone if you don't recognize the number. If it's important, the person will leave you a message and you can decide whether to call them back or not.
Never disclose personal information until you verify that it's from a reputable source. When in doubt, call the company directly using phone numbers you know are real.
Don't let anyone threaten you. That goes for online, over the phone, or by texting. Remember, these entities should never do that to you. If they do, it's a red flag.
If you think an account has been compromised, contact the institution, change your logins, and consider putting a fraud freeze on your card.