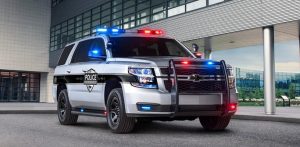 For those who wonder what the next generation Police Pursuit Vehicle (PPV) might look like, you have to take a good look at what Chevy has added in terms of safety features. These features are designed to "protect the protectors" who spend countless hours out on the open road.
The Centerpiece
While many of today's luxury cars have things like automatic braking, forward collision alert, lane departure warning, a safety alert driver's seat, and more. Chevrolet claims that adding these features along with power adjustable pedals as part of the Enhanced Driver Assist Package is the first of its kind designed specifically for a pursuit-rated vehicle.
Going a little further, it should be noted that low-speed forward collision warning with automatic braking has never been seen in a pursuit-rated vehicle before. The system is designed to detect a potential front-end collision and apply the brakes automatically to help reduce the severity of the impact.
Keeping You Alerted
Inside the average pursuit, vehicle is a maze of lights, radios, laptops, radar, cellphones, radios, and host of other alerts go off constantly. If the only alert you received from one of the multitude of driver assist modules, it would simply disappear in the cacophony of other alerts going off. This would put you in danger of an accident that might otherwise have been avoided.
Chevrolet's research and development team went to work on this problem and they came up with a very interesting solution to the problem. The 2018 Chevy Tahoe Police Pursuit Vehicle features a vibrating driver's seat. Before you get the wrong idea, the premise is simple when one of the driver assist sensors goes off, it causes bottom seat cushion to vibrate in pulses. This tactile response to the alerts will also make it easier for an officer to pick out this alert from the many others going on inside their cruiser.
More to be Said
According to Ed Peper, US Vice President of Fleet when talking about the new safety features, " We want to protect our protectors and help them get home safely at the end of every shift. The safety technologies we are introducing on the Tahoe PPV may serve as a second set of eyes."
Of course, the 2018 Tahoe still comes equipped with the standard array of safety features. These include full Bluetooth connectivity for hands-free operation, making it much easier to stay in contact via text and call. The electronic stability controls are designed to help keep the Tahoe level during high speed cornering such as you might see one or two of in your career (per week that is!).
Then there is the rear vision camera with rear park assist and steering wheel controls. These fun features make it so much easier to parallel park and avoid obstacles while you are backing up. No matter how you look at, the 2018 Chevy Tahoe PPV is going to help keep our brothers and sisters much safer out there on roads that are becoming more dangerous every day.