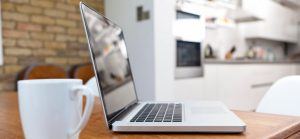 Since the onset of the Coronavirus outbreak started, many of us began working from home. While working from home is great, and can help slow the spread of the virus, it also brings new challenges.
If you are lucky enough to have a home office, you can probably find space for your new electronics and paper filing storage. But if you don't have a home office, you might get stuck working from your kitchen table or in your bedroom.
Tips for protecting your devices and personal information online:
Create strong passwords.
A good password will be unique, have a mix of numbers, letters, and symbols, and be a little long (at least 12 characters).
Update your security software and Secure your home network.
Start with your router. Turn on encryption (WPA2 or WPA3). Encryption scrambles information sent over your network so outsiders can't read it.
If you are using a laptop, make sure its password protected.
NEVER leave it un-attended.
Securely store sensitive files.
Keep confidential information out of site and under lock and key. If you don't have a file cabinet, use a locked room or safe.
Dispose of sensitive data. Shred it!
Don't just throw it away or tear it up. Thieves will be looking for anything in your garbage that has personal information on it.
Follow your employer's security practices.
Your home is now an extension of your office, so follow the protocols that your employer has implemented.