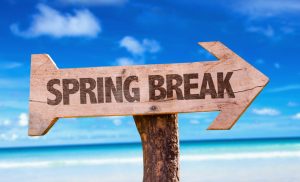 Spring break is upon us and thankfully, it is safe to travel again! Even though the airports are getting crowded, and flights seem to be packed, the world is almost back to its pre-pandemic mode. But it's a new normal, because TSA is still requiring masks to travel on airplanes, trains, and public transportation.
A few things to consider!
Think about your personal risk factor. Take the appropriate precautions to protect your family.
With gas prices souring, many travelers are re-considering taking a road trip or any kind of trip for that matter. You might want to hold off on a vacation.
The airline industry pre-purchases gas, so they can afford to keep prices relatively lower for now. But, in a few more weeks, ticket prices might go up, so be prepared for a possible sticker shock.
What's the best way to score a last-minute spring break deal and stay safe?
Consider off-peak travel dates. You'll get better prices and will naturally avoid bigger crowds of people.
Choose your activities carefully. Try to stay outdoors and avoid high risk areas.
It's a great time for international destinations. The overseas flights are low right now, but you should still factor in higher prices for food and meals.
Be aware of travel hot spots like Miami and Las Vegas. These cities will cost more.
You never know where people are coming from or whether or not they are vaccinated. They might be coming from areas with higher COVID case rates, and infectious diseases can pass through the air, so for now, plan to mask up to stay safe.